Plotting a dictator's downfall: Shakespeare's Globe Julius Caesar feels very relevant today
---
Published: 15:44, 04 August 2022
|

Updated:
15:45, 04 August 2022
---
---
---
Shakespeare's Globe: Julius Caesar at Magdalen College School, Oxford, July 19-24. Review by JON LEWIS
A Roman Spring
The Globe Theatre production of William Shakespeare's Julius Caesar, programmed as part of the Oxford Festival of the Arts and promoted by the Oxford Playhouse, with all its conspirators plotting the fall of a potential dictator, feels very relevant today. With the forced resignations of Mario Draghi in Italy and Boris Johnson in the UK, plus the wishful-thinking among some commentators hoping for the fall of Vladimir Putin, and the continued fall-out in the US against Donald Trump of last year's Jan 6 attack on the Capitol in Washington, Julius Caesar fascinates in its insights over the motivations of political conspirators.
The production was performed in an outdoor site close to Magdalen Bridge in the grounds of Magdalen College School. This meant that all the sounds of modern Oxford intruded upon the play – sirens, traffic, passers-by compelled to heckle – probably not much different to the hustle and bustle in Shakespeare's own time. We are meant to simulate the volatile Roman masses, the conspirators during Caesar's funeral scene dashing into the seated area, hoping to persuade us to believe in their political ideology.
Director Diane Page makes the most of actor Omar Bynon's comic poetic skills, initially entertaining the audience with a call and response game. He also plays the soothsayer whose warning to Caesar (Dickon Tyrelll) 'beware the Ides of March' is ignored by the great soldier. Caesar also brushes aside the grim portents found in the nightmares dreamed by his wife Calpurnia (a quiet-voiced Amie Francis) because he trusts too much in the flattery of his close senate colleagues.
Foremost among the conspirators are the gender-changed characters Brutus (Anna Crichlow) and Cassius (Charlotte Bate), female senators who are more deadly than the male. It does not quite work during the funeral speech by Mark Antony (Samuel Oatley) that he refers to Brutus as an honorable man – I suppose Page did not want to alter Shakespeare's characters' names and iambic pentameter beats – but neither do the battle scenes after the interval convince with the slightly-framed actresses going one-to-one in combat with their more muscular male opponents.
Gallery1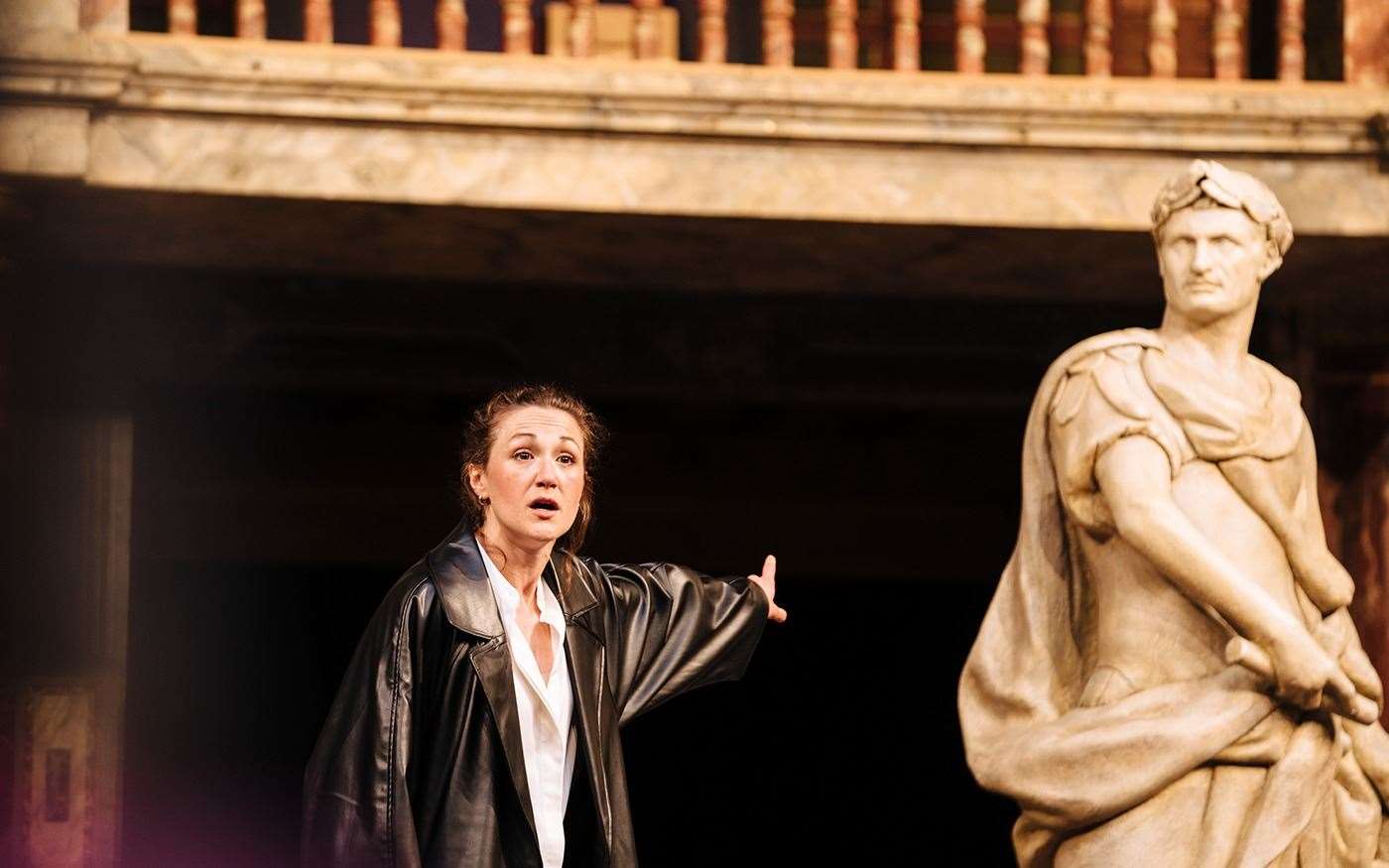 An enjoyable, entertaining production.
---
---